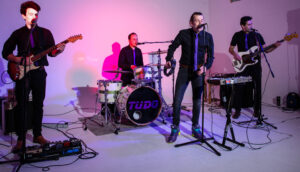 Live Band
br>
TUDO a covers band for hire, based in Bournemouth, who have been gigging together for 4 years. Therefore, they know the ins and outs of what it takes to put on a Gig that gets people in the mood for some good times. With a wide range of songs in the repertoire, our professional musicians offer an energetic and engaging set covering; 80s, soul, funk, rock and pop just to name a few.
Bringing live music across Dorset and though-out the UK. Covering most of the popular places for weddings and functions in the beautiful Dorset area. Such as Bournemouth, Christchurch, New Forest, Salisbury, Somerset and many more, which host some of the most stunning venues.
In addition, we also provide everything you could possibly need to put on a great sounding gig, this includes a P.A system as well as DJ playlists in between set breaks. In other words, we cover all your live music needs!
What does it mean? TUDO is Portuguese for everything, meaning we are an all-inclusive band that covers it all. Playing events including weddings, birthdays, Bar Mitzvahs, corporate functions, clubs, pubs, and any other special events, no venue is seen as too big or too small, you name it TUDO cover it and we want nothing more than to make your night one to remember.